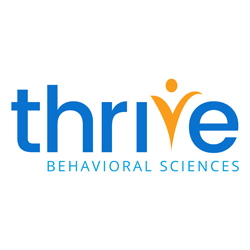 Medical Insurance Verification Specialist
Tampa, FL
Paid personal time, Vision Insurance, Dental Insurance, Health Insurance
Thrive Behavioral Sciences is actively scheduling interviews for an immediate hire of an experienced Insurance Verification Specialist for the Medical Billing Department.

The office is conveniently located off of W Hillsborough Ave and the Veterans Expressway / Eisenhower Blvd. We hold traditional business hours Monday - Friday, no weekends.

Compensation will commensurate based on your experience in the field.

Thrive Behavioral Sciences provides psychiatric evaluations for medication management, diagnosis confirmation and treatment recommendations. Our team of behavioral health care specialists deliver services to improve and stabilize mental health needs. Thrive practitioners provide collaborative care to; in-patient primary care, surgical and hospital groups. We deliver care via a proprietary telehealth platform and within skilled/assisted nursing facilities.

Job Description:

The Insurance Verification Specialist is a health care professional that validates and verifies a patient's health care benefits. In this position you will be levering your insurance industry experience and utilize various online insurance verification platforms to verify coverage levels. If a patient's information was not provided, you will work with our Facility partners to obtain the most current and accurate information. You will be in a vital and valued role within our Billing Department where you will help patients get the medical procedures and expense coverage they need.

High school graduate
Some College Preferred
Two years health care billing experience.
Competitive applicants have a working knowledge of medical terminology and are familiar with insurance billing policies and procedures.
Professional experience performing insurance verification or billing services.
Knowledge of different types of medical insurance coverage and policies.

The insurance verification specialist is responsible for verifying patient insurance coverage, to ensure necessary procedures are covered by an individual's provider.
Research multiple insurance platforms to identify and validate patient health insurance benefits.
Ability to understand pertinent benefits information regarding behavioral health care coverage.
Entering patient benefit information into Practice Management software.
Collaborates with coding teams to supports correct reimbursement.
Document findings in various internal systems.
Follow regulatory requirements.
Do project work as needed.
Time management skills. IVS must maintain an ability to focus and work efficiently as insurance paperwork commonly needs to be processed in a timely manner.
Detail-oriented and organized to maintain accurate patient insurance records.
Ability to communicate well with others as part of a health care team striving to provide patients with the best care possible.
Excellent Communication Skills
Social and Communication Skills

Monday - Friday Traditional Work Hours, 40 Hour Week
15135